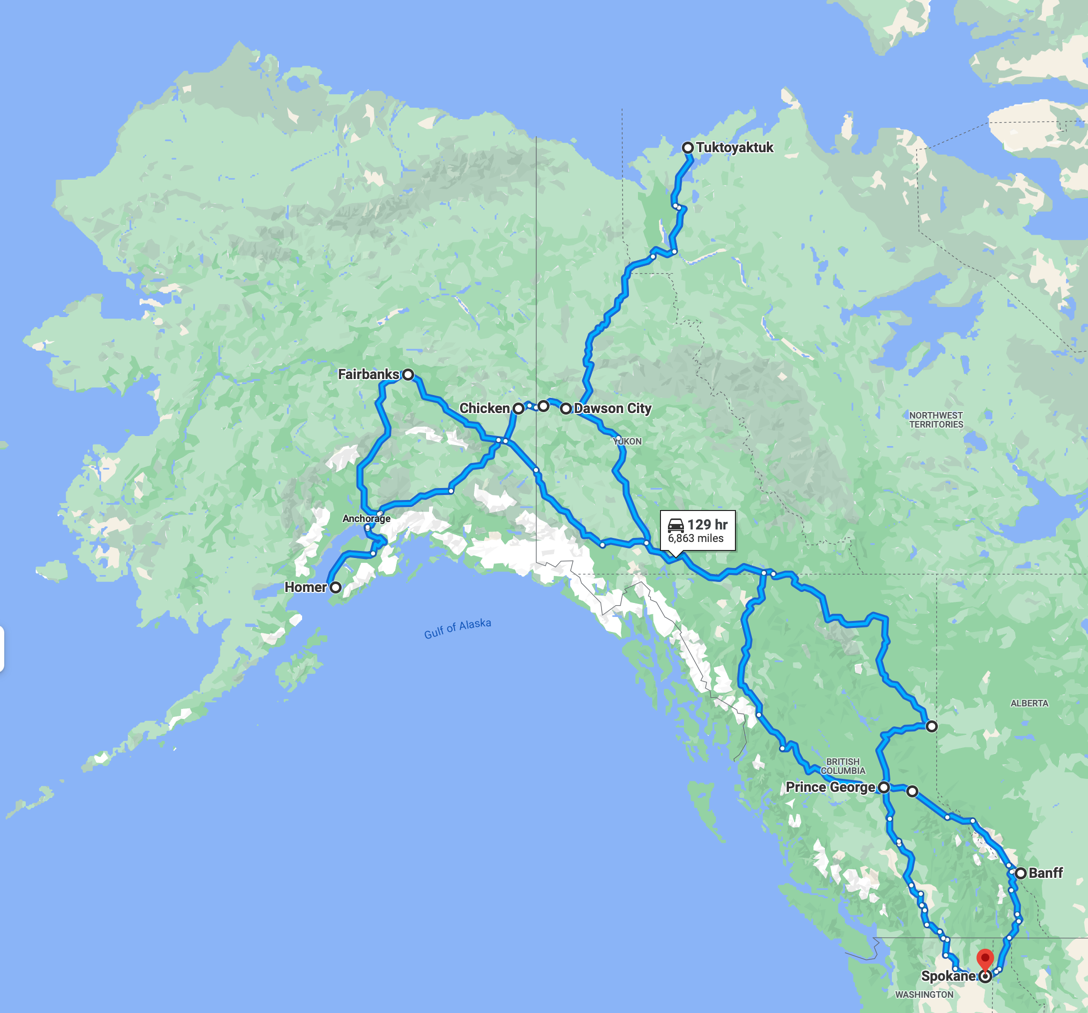 Planning to drive to Alaska Summer 2023
Robyn and I are planning a trip to Alaska for the summer of 2023. Although we are initially leaving from Inverness Florida we are meeting up with others and doing the detailed planning starting in Spokane WA on the morning of June 15th 2023.
This will take 39 days (about 6 weeks) and cover ~7,000 miles.
Segment 1 - 8 days - Canada National Parks - Banff, Jasper
Day
Date
Leave
Arrive
Hours
RideWithGPS
Notes
Day 01
15-Jun
Thursday
Spokane WA
Radium Hot Springs BC
5.0
RidgeView Resort RV Park
Day 02
16-Jun
Friday
Radium Hot Springs BC
Banff National Park BC
1.5
Slow drive through mountains
Check into Bnaff National Park
Electric, Water, Dump Station, Laundry, Grocery
Day 03
17-Jun
Saturday
Sightsee Bnaff
Day 04
18-Jun
Sunday
Sightsee Bnaff
Day 05
19-Jun
Monday
Banff National Park BC
Jasper National Park BC
3.5
Slow drive through mountains
Check into Jasper
Electric, Water, Dump Station, Laundry, Grocery
Day 06
20-Jun
Tuesday
Sightsee Jasper
Day 07
21-Jun
Wednesday
Jasper National Park BC
Robson River Campground BC
1.3
Slow drive through mountains
Check into Robson River Campground BC
Electric, Water, Dump Station
Day 08
22-Jun
Thursday
Rest day Robson River Campground
Segment 2 - 7 days - Alaskan Hwy Dawson Creek to Whitehorse then Klondike Hwy to Dawson City
Day
Date
Leave
Arrive
Hours
RideWithGPS
Notes
Day 09
23-Jun
Friday
Robson River Campground BC
Prince George BC
3.0
Day 10
24-Jun
Saturday
Prince George BC
Dawson Creek BC
4.3
Day 11
25-Jun
Sunday
Dawson Creek BC
Fort Nelson BC
4.7
Start of Alaskan Hwy
Day 12
26-Jun
Monday
Fort Nelson BC
Watson Lake BC
6.2
Day 13
27-Jun
Tuesday
Watson Lake BC
Whitehorse YK
4.8
Day 14
28-Jun
Wednesday
Whitehorse YK
Stewart Crossing YK
3.7
Leave Alaskan Hwy, take Klondike Hwy north towards Dawson City
Day 15
29-Jun
Thursday
Stewart Crossing YK
Dawson City YK
2.2
Segment 3 - 8 days - Dempster Hwy to Arctic Ocean and back
Day
Date
Leave
Arrive
Hours
RideWithGPS
Notes
Day 15
30-Jun
Friday
Dawson City YK
Eagle Plains YK
5.0
Dempster Hwy north
Day 16
1-Jul
Saturday
Eagle Plains YK
Inuvik NT
5.5
Day 17
2-Jul
Sunday
Inuvik NT
Tuktoyatuk NT
2.5
Camp on Arctic Ocean
Day 18
3-Jul
Monday
Weather permitting - Rest day on Arctic Ocean
Day 19
4-Jul
Tuesday
Tuktoyatuk NT
Fort McPherson NT
4.7
Day 20
5-Jul
Wednesday
Fort McPherson NT
Eagle Plains YK
4.7
Day 21
6-Jul
Thursday
Eagle Plains YK
Dawson City YK
5.0
Day 22
7-Jul
Friday
Rest day at Dawson City YK
Segment 4 - 4 days - Top of World Hwy, Chicken, Tok, Valdez, Ferry, Whittier
Day
Date
Leave
Arrive
Hours
RideWithGPS
Notes
Day 23
8-Jul
Saturday
Dawson City YK
Tok AK
5.0
Top of World Hwy
Day 24
9-Jul
Sunday
Tok AK
Valdez AK
4.5
Day 25
10-Jul
Monday
Valdez AK
Rest day at Valdez AK
Day 26
11-Jul
Tuesday
Valdez AK
Whittier AK
Ferry Ride
Leave 11am - Arrive 4:45pm
~6 hours
$201 for 20" Truck Camper
Segment 5 - 6 days - Whittier, Homer, Anchorage, Denali, Fairbanks, Tok
Day
Date
Leave
Arrive
Hours
RideWithGPS
Notes
Day 27
12-Jul
Wednesday
Whittier AK
Homer AK
3.5
Train Tunnel
Day 28
13-Jul
Thursday
Homer AK
Anchorage AK
4.2
Day 29
14-Jul
Friday
Anchorage AK
Denali National Park AK
4.2
Day 30
15-Jul
Saturday
Rest day at Denali National Park AK
Day 31
16-Jul
Sunday
Denali National Park AK
Fairbanks AK
2.3
Day 32
17-Jul
Monday
Fairbanks AK
Tok AK
3.3
Segment 6 - 7 days - Alaskan Hwy, Stewart-Cassiar Hwy, to Prince George BC
Day
Date
Leave
Arrive
Hours
RideWithGPS
Notes
Day 33
18-Jul
Tuesday
Tok AK
Destruction Bay YK
4.5
Alaskan Hwy
Day 34
19-Jul
Wednesday
Destruction Bay YK
Whitehorse YK
3.0
Alaskan Hwy
Day 35
20-Jul
Thursday
Whitehorse YK
Watson Lake BC
4.8
Alaskan Hwy
Day 36
21-Jul
Friday
Watson Lake BC
Kinaskan Lake Provincial Park BC
5.0
Stewart-Cassiar Hwy
Day 37
22-Jul
Saturday
Kinaskan Lake Provincial Park BC
New Hazelton BC
4.5
Stewart-Cassiar Hwy
Day 38
23-Jul
Sunday
New Hazelton BC
Prince George BC
5.0
Yellowhead Hwy
Day 39
24-Jul
Monday
Prince George BC
Robyn & Liz leave group - 18 hrs to Boise ID
12 hours drive to Spokane WA
13 hours drive to Portland OR