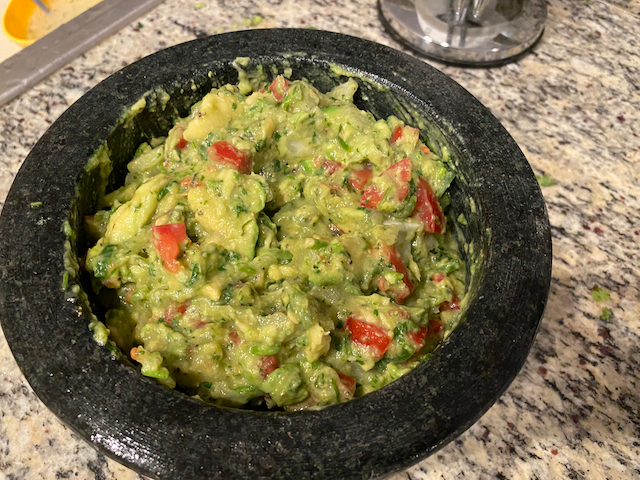 About a month ago Robyn and I flew to South Padre Island Texas to visit with my son and friends. We had never flown into Harlingen TX before so this time we flew into Harlingen and rented a car to drive to South Padre. While at a local Harlingen AT&T store we asked where was a good place to eat. They referred us to Pepe's Mexican restaurant. Robyn and I stopped there for lunch and had some of the best guacamole I had ever had.
I knew that when we got back to Florida I would have to try and recreate the receipe.
After a couple of tries Robyn and I think the receipe is pretty close.
---
The guacamole only takes about 5 minutes to make you end up with about 5 cups (quite a bit).
There are a couple of key concepts to get right to have the perfect guacamole.
use fresh ingredients
use a molcajete (large mortar and pestle)
mix loosely to get a nice chunky-ness
---
Let's start with the ingredients:
2 japalenos
2 avacados
1/2 onion
3 roma tomatoes
2 cloves garlic
1/4 bunch of cilantro
1 teaspoon salt
1 teaspoon pepper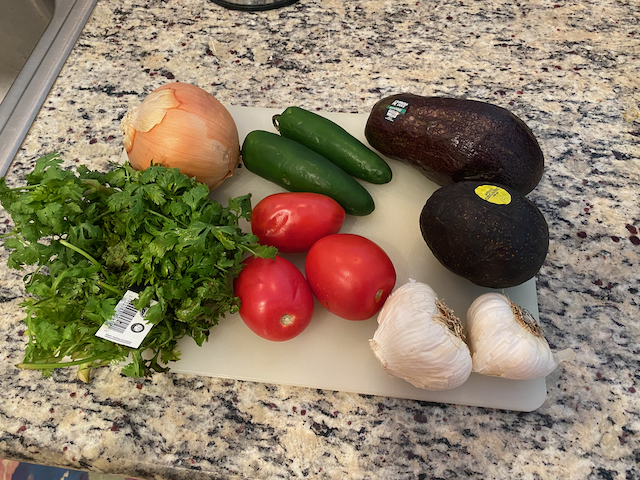 ---
What is a molcajete?
From wikipedia - "The molcajete was used by pre-Hispanic Mesoamerican cultures, including the Aztec and Maya, stretching back several thousand years. Traditionally carved out of a single block of vesicular basalt, molcajetes are typically round in shape and supported by three short legs."
I got ours on Amazon. They mostly come in sizes of 2 cups, or 4 cups. I managed to find a 5 cup version, but it is really heavy.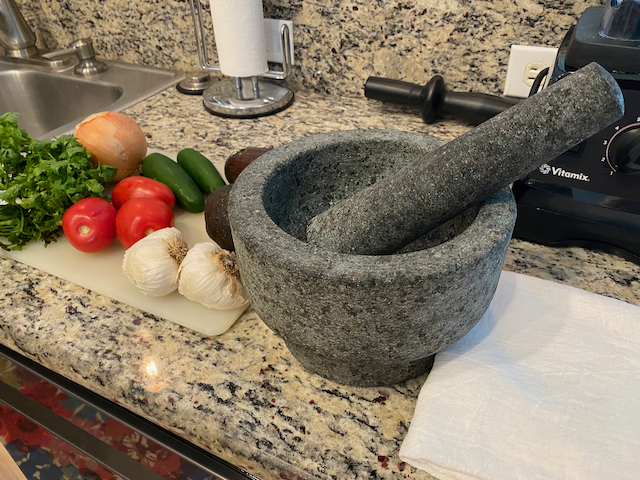 ---
The secret to getting the consistency correct is in how the ingredients are mixed.
First dice the hard ingredients: japalenos, onion, cilantro, garlic. And then place the diced ingredients into the molcajete along with the salt and pepper.
Now mash the petsle until you get the consistency of the mixure you like. I usually grind for less than one minute.
Diced and ready to grind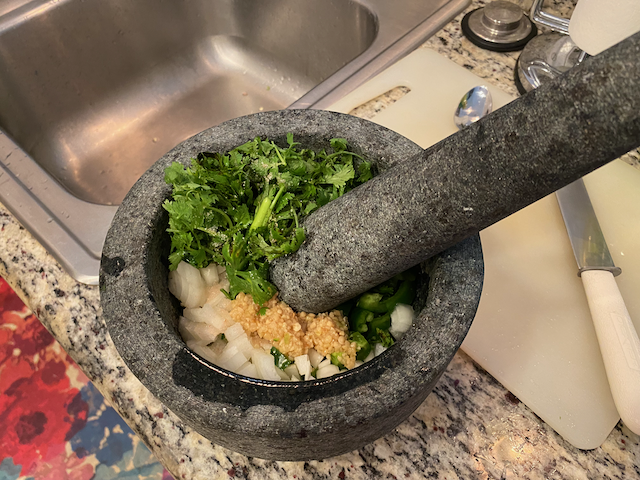 Ground to consistency we like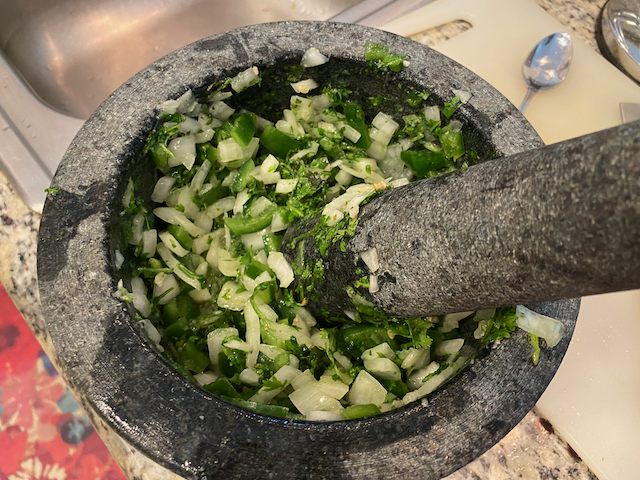 ---
Dice the roma tomatoes and place them in a medium sized bowl. Add the ground mix you must made also: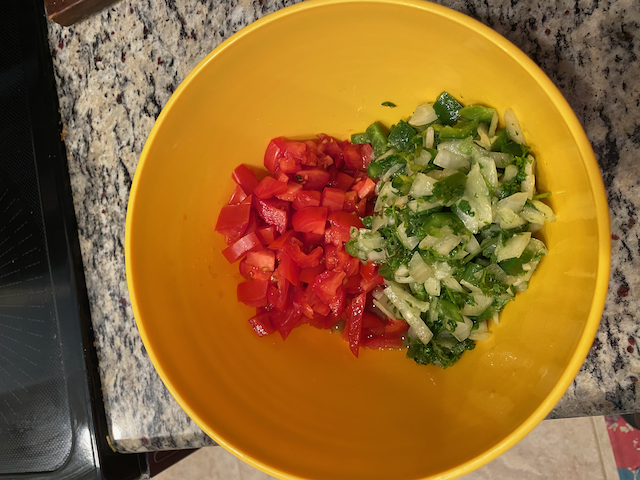 ---
Last we need to mash up the guacamole. We use one Haas and one normal? avacado. Cut the avacado in half and scoop the avacado out with a spoon into the molcajete. Mash up the avacado until you get the consistency you like. We like it a little chunky.
Avacado just spooned into the molcajete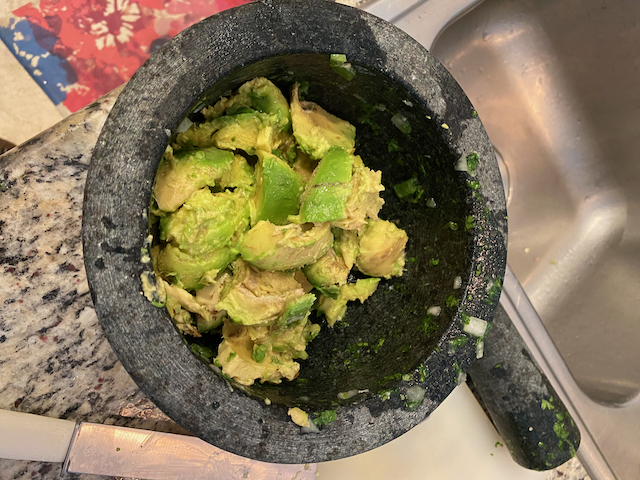 Avacado mashed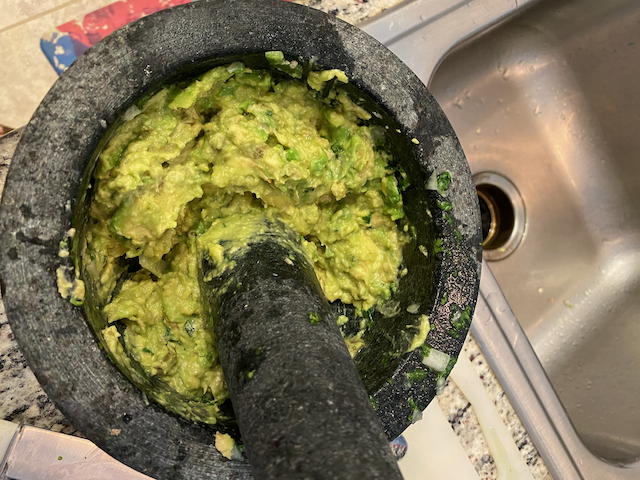 ---
Add the avacado to the mixing bowl that already has the diced roma tomatoes and the ground mix of japalenos, onions, etc..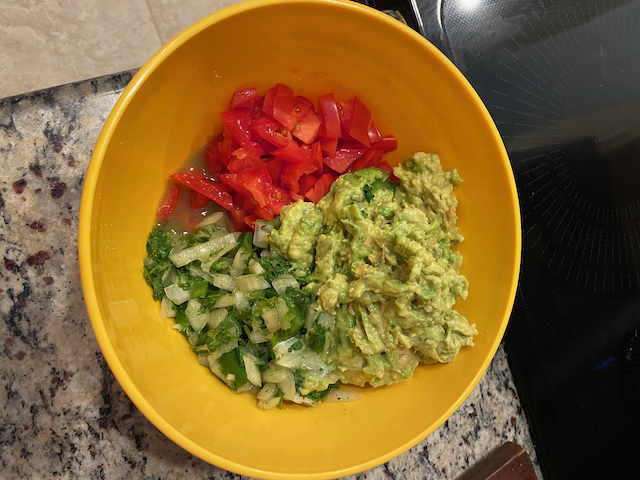 Stir everything up in the mixing bowl with a large soup spoon. Put it back in the molcajete to have a great serving presentation.