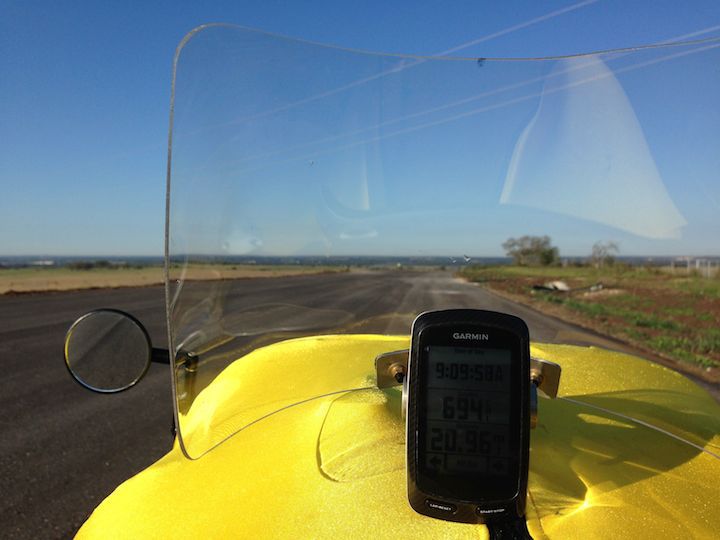 I had not ridden in over a week because of work commitments. This morning the weather conditions were perfect!
So with the temps around 43 degrees at 8am this morning I set off on a nice long easy ride.
Earlier in the week I have received the new windshield from Lightning Cycle Dynamics and yesterday morning I had mounted it on the F-40. The new windshield does not have any of the issues the old windshield had.
The first thing I noticed was how much quieter it is with the windshield on. Without the windshield above 25 mph it is very noisy on the F-40. With the windshield it remains very quiet even when going 35 mph.
The roads were pretty empty until around the 17 mile mark - ie heading north on Ronald Reagan just north of HWY95. There about 1/2 mile ahead I spot a large group of riders and I try to catch them as fast as I could. Well, I quickly catch them and pass them doing about 36 mph. I hear a yell out "There goes that rocket ship!"
Soon afterwards I climb to the top of a pretty long hill and stop and turn around to take the picture above. I had ridden about 20 miles now and my plan was to have a few munchies and then head back home for a total distance of about 40 miles.
After finishing my munchies I notice that the group of riders was heading up the hill and I decide to wait and see how far they were going to ride. Turns out they were only going a couple of miles further to a MacDonalds on IH 35 for coffee, so I tag along and stop at the McDonalds with them.
Turns out they are a group that ride every day out of Sun City. They ride about 20 miles at an easy pace of 12-15 mph with no drops. One of the riders actually lived in Lompoc CA for a few years and was good friends with all the folks at Lightning Cycle Dynamics.
After coffee the weather was so nice I decided that I would head north to Salado and maybe have breakfast when I got there. It was too beautiful of a day to waste not riding.
After the long coffee stop, I got to Salado after 32 miles around 10:30am. I had not done the Salado ride in quite a while and had forgotten how enjoyable a ride it is. I was feeling pretty puny so I had a long relaxing breakfast until I got my second wind.
While inside at breakfast the wind had started up so that heading back I would have a pretty stiff headwind - 10 mph gusting to 17 mph for the last 25 miles home.
I must be getting acclimated to the wind on the F-40 because the head/side winds were no issue on the way back.
With all the stops it was almost a 5 hour ride - lots of stops - many new friends - and a beautiful day!
---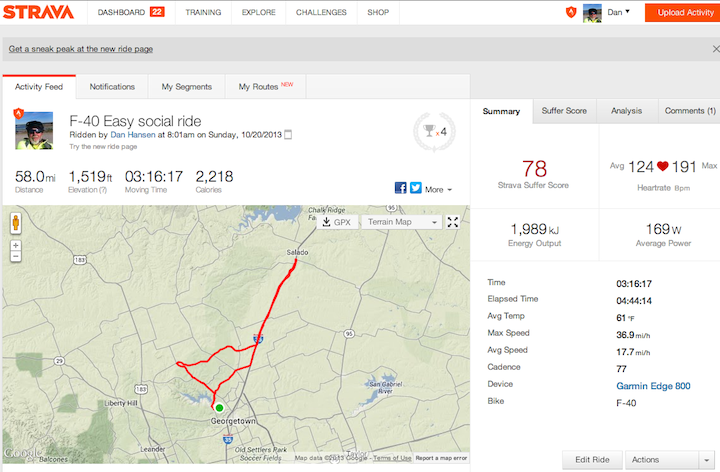 http://app.strava.com/activities/90283918
---