The cramping at the Liberty Hill Spokes 'n Spurs ride was worse than I thought.
Leg bruise finally came to the surface on Sunday from Saturday's cramp fest two miles from the end of the Liberty Hill Spokes 'n Spurs bicycle ride. Darn, no wonder it hurt like mad.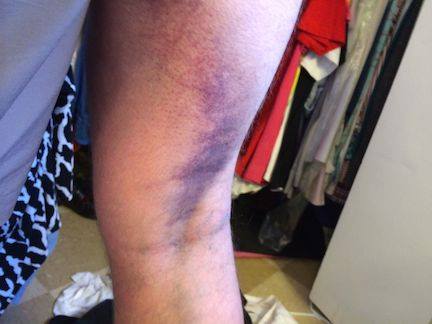 I've been laid up for a week now recovering. Easy stretching, gentle massage and a couple of slow easy rides on the trike. One 10 minute ride on the TiAero last Thursday to make sure I did not pull any muscle.
Another easy trike ride on Saturday.
Now it is time to start training in earnest for some big rides coming up in the next few weeks.