In getting organized for the GASP ride (a precursor for the '24 Hours in the Canyon' race) I created a charging station for all the electronics I'll be taking on the bike.
To be fair, the iPad mini will not be on the bike. For the GASP ride I'll put the iPad mini in my backpack that the organizers will drop off in Shiner. This way I'll be able to surf the web while drinking beer at the brewery.
Also, for the GASP ride I will not need the helmet light or headlight.
Yes, it appears as if I am a belt and suspenders kind of guy.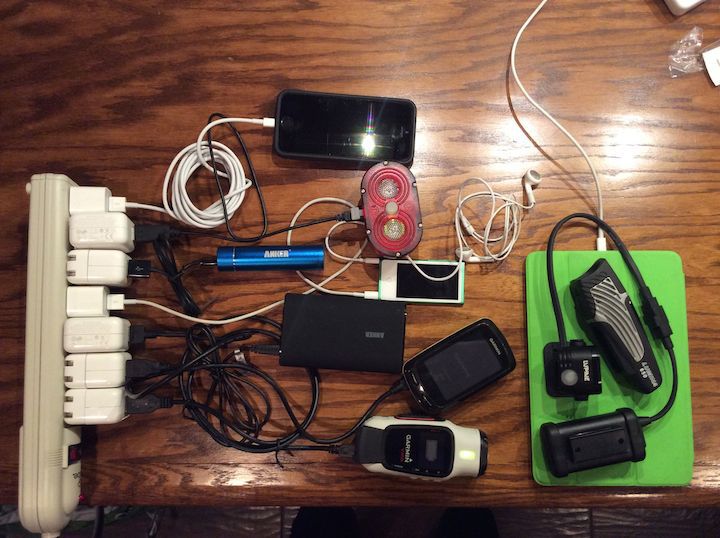 ---
I really like the lupine Piko helmet light. I might end up ordering the lupine Betty for the front of the F-40. I need to do some night riding next week to see how the current setup works with just the NiteRider 650 and the Piko.
The checklist:
iPhone
iPod nano w/open air earphones
iPad mini
ankr battery charger small blue
ankr battery charger large
dinotte red rear tail light
lupine piko helmet light (1200 lumens)
niterider 650 lumens headlight
garmin edge 800
garmin VIRB
I also have some additional duplicate backup items for the '24 Hours in the Canyon' ride:
niterider 650 lumens headlight
dinotte red rear tail light
ankr battery charger large