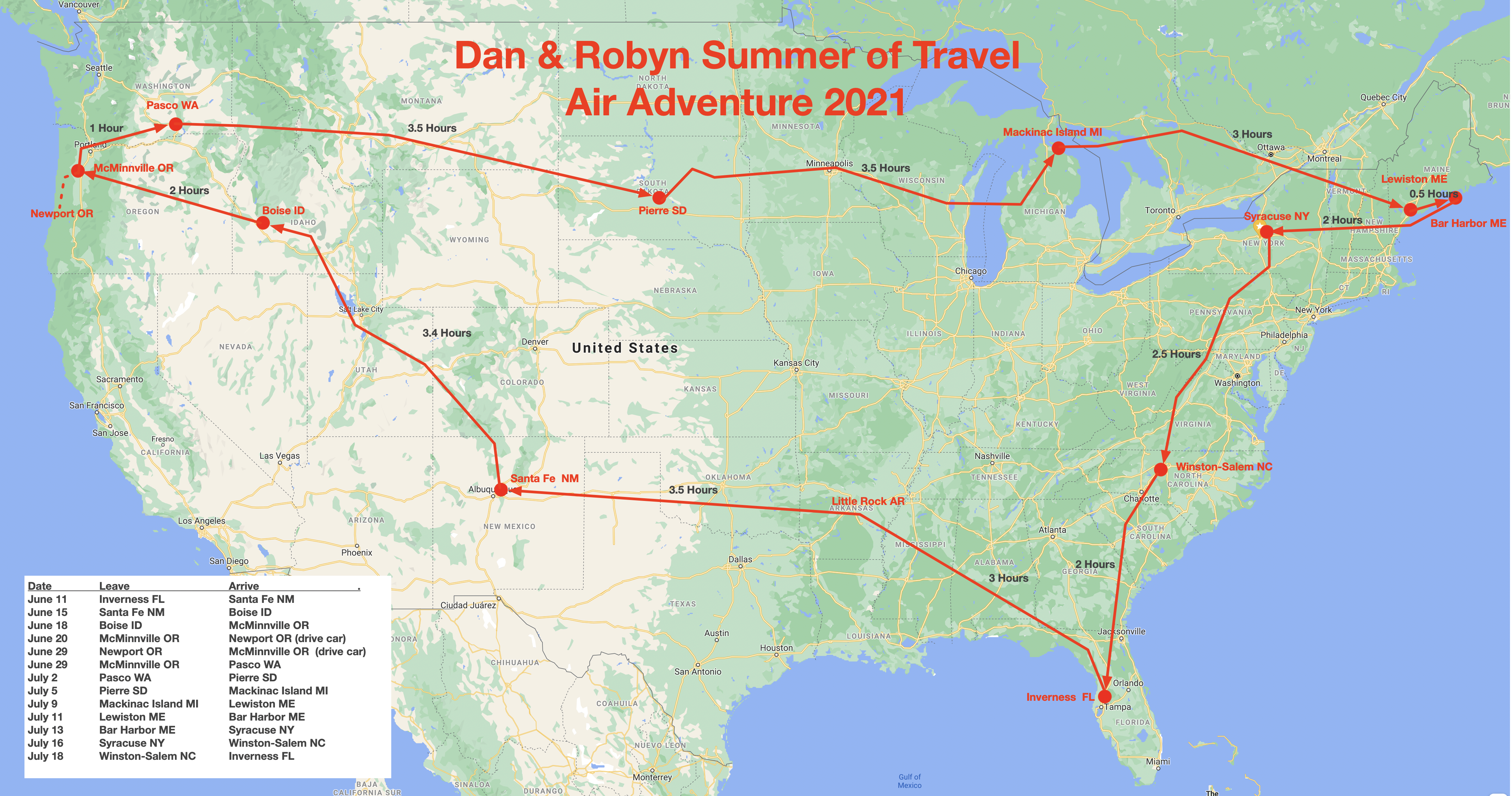 Summer Vacation 2021
Early last year (before COVID) Robyn and I started planning our 2021 Summer of Travel adventure which will begin mid next month. We have access to a small private plane and will be fly clockwise around the United States. We flew counter-clockwise several years ago and had a great adventure.
We'll be meeting up with various friends and family along the route. The dates on the map are approximate because adverse weather may affect our travel days here and there. The McMinnville, Newport and Mackinac Island dates are pretty solid. If you are close to any of the cities on the days we'll be there, and want to meet up, let us know.
When we get ready to fly I'll post the flightaware.com link for people that want to following our travels. The hours on the map are approximate flight hours to get from one city to another. Our first travel day to Santa Fe NM is the longest (6.5 hours of flying) requiring a stop for gas in Little Rock AR.
| Date | Flying Hours | Leave | Arrive |
| --- | --- | --- | --- |
| June 11 | 6.5 | Inverness FL | Santa Fe NM |
| June 15 | 3.4 | Santa Fe NM | Boise ID |
| June 18 | 2.0 | Boise ID | McMinnville OR |
| June 20 | drive car | McMinnville OR | Newport OR |
| June 29 | drive car | Newport OR | McMinnville OR |
| June 29 | 1.0 | McMinnville OR | Pasco WA |
| July 2 | 3.5 | Pasco WA | Pierre SD |
| July 5 | 3.5 | Pierre SD | Mackinac Island MI |
| July 9 | 3.0 | Mackinac Island MI | Lewiston ME |
| July 11 | 0.5 | Lewiston ME | Bar Harbor ME |
| July 13 | 2.0 | Bar Harbor ME | Syracuse NY |
| July 16 | 2.5 | Syracuse NY | Winston-Salem NC |
| July 18 | 2.0 | Winston-Salem NC | Inverness FL |